The University of of Priština School of Philosophy in Kosovska Mitrovica, as a partner institution in the CLIL-HET project, financed by the Višegrad Fund, was one of the participants in the international online seminar "ESP and CLIL – Current Drivers of HEI Internationalization", which was held on March 11th and 12th, 2021.
The seminar brought together ESP and content subject experts from around the world to exchange experiences related to this type of teaching and its potential for internationalization of universities.
The seminar hosted 4 plenary speakers, 130 participants from 21 countries, out of which 23 delivered presentations.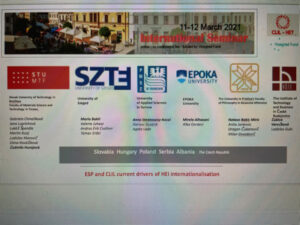 The CLIL-HET project coordinator from the University of Priština School of Philosophy in Kosovska Mitrovica delivered a presentation titled "Are content teachers ready to put CLIL into practice: A case study from a university in Serbia" based on the research outcome conducted at the University of of Priština's School of Technical Sciences in Kosovska Mitrovica in December 2020.