The library, along with three librarians, a reading room and library computers are available to students, teachers, the Faculty staff, and other interested persons every day from 8 am until 7 pm.
The library book fund is enriched through a carefully managed procurement policy and it currently includes more than 30,000 monographs and nearly 6,000 serial publications. It consists of a large number of academic monographs, collected works of various authors, individual editions, dictionaries, lexicons, encyclopedias and periodicals in several languages. Furthermore, doctoral dissertations, master's theses, specialist and graduate papers are part of the library fund and are available to the public.
In less than fifteen years, and with the help of our donors, the library's collection has grown into the largest book fund at the University of Kosovska Mitrovica. The most prominent donors include the Russian Embassy, ​​which has donated important books to our Faculty, the renowned newspaper Vecernje Novosti and National and University Library "Ivo Andric" from Pristina with temporary Head Office in Belgrade. UNMIK administration has donated over one thousand books in French and English. The legacies of Dr Radosav Djurovic and Dr Radosav Koncar, who spent part of their career teaching at the Faculty of Philosophy, are an integral part of the library book fund.
The Library exchanges publications issued by the Faculty with libraries in Serbia and abroad. Moreover, it cooperates closely with the National Library of Serbia, University Library "Svetozar Markovic" in Belgrade, libraries of the Faculty of Philosophy in Niš, Novi Sad, Belgrade, Pale and Banja Luka.
The library has the appropriate technical and academic literature in accordance with the standards for accreditation of study programmes and the requirements of academic research in the field of humanities. The library is subscribed to a significant number of journals, including: Pedagogy, Psychology Today, Social Thought, Topics, Aspirations, Style and Danica.
The library is committed to the promotion of the publications issued by the Faculty and it regularly exhibits at the International Book Fair held in Belgrade.
The library of the Faculty of Philosophy is an integral part of the electronic library of Serbia through the programme system COBISS.SR (database COBISS / OPAC; Cooperative Online Bibliographic System and Services). Using this system the library obtains, stores, processes and keeps a register of persons using the library book fund.
Everyone with a computer and the Internet connection can browse this database, including the database of the Faculty of Philosophy in Kosovska Mitrovica.
Browsing instructions:
Go to http://www.vbs.rs/cobiss/cobiss_sr-en.htm
Placing the cursor on "SEARCH" in the upper left corner will open a submenu "Browse library materials (COBISS / OPAC)".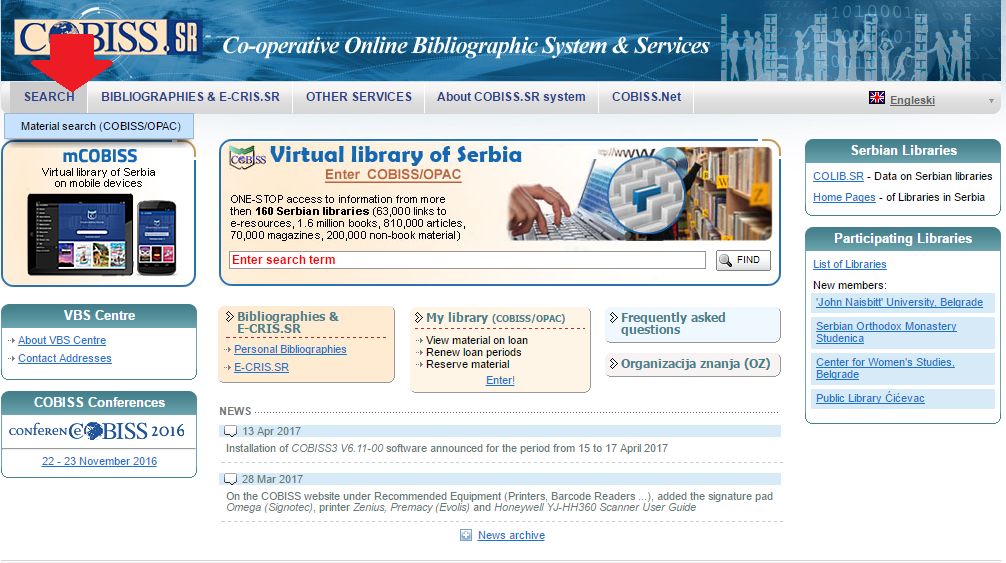 The link leads to Databases page. Typing of the acronym FIFAKM into the Library field will open the link "Faculty of Philosophy, Kosovska Mitrovica".
The link leads to the Search page where the database can be browsed by author, title, publication year and keywords.